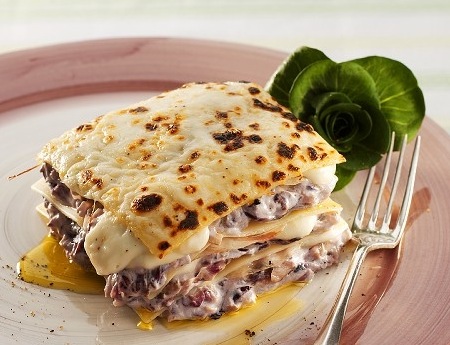 Of course abroad the most famous kind of lasagna is made with white sauce and meat sauce but it's not the only kind of lasagna you can make.
You can serve vegetarian lasagna made with white sauce and vegetable ragu' just for istance; today I'll give you an idea for a very refined dinner or lunch, a kind of lasagna that you maybe can't find usually in Italian restaurant worldwide (or maybe yes, I don't know, but making it at home is better ;) ).
For 4 serves you need:
1 lb. treviso radicchio (or a red radicchio-chichory)
10 oz. fresh pasta for lasagna
3 tablespoon extra-virgin olive oil
1 oz. butter
1 oz. bacon
1 small white onion
2 garlic cloves
salt and pepper
freshly grated Parmesan
For the white sauce:
1/2 cup whole milk
5 tablespoon butter
2 1/2 oz. flour
salt
nutmeg
Take the radicchio and cut it in thin stripes, then wash and dry it well.
In a big pan heat oil and butter with onion and garlic cloves, add bacon in stripes and let it fry for few minutes then add radicchio, salt and pepper, cover and let it cook untill it's stewed.
To make white sauce melt in a pan the butter, add flour little by little, mixing: when you have a sort of thick cream add milk, salt and nutmeg, cook on low heat for 3 minutes after it comes to boiling point.
Boil pasta sheets in hot salty water, spread some butter in a oven-proof dish then pour white sauce, stewed radicchio, pasta and grated Parmesan in layers, finish with a generous spread of radicchio, Parmesan and white sauce: put in the oven for 40 minutes, if it becomes too brown cover with a sheet of alluminium.
You can prepare it a day in advance then put in the oven just in time for the guests arrival or even prepare it then freeze: it last for 2 month.
It's a great thing to avoid the pressure of cooking everything last minute!