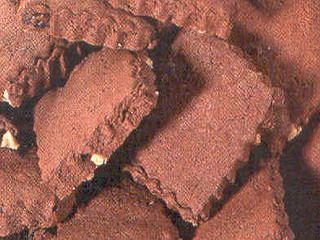 I saw I post so many sweet recipes...
It's strange to tell you the truth because I prefer salty dishes: pasta, meat and so on.
But maybe it's because making sweets is so funny!
These biscuits are great in the morning, soaked in a creamy cappuccino.
I love cappuccino so much but a lot more "latte macchiato" ( stained milk): it's very similar to cappuccino but there's more milk and not a whole espresso inside.
Unluckly I'm really sensitive to coffee and it turns my stomach upside down if I drink too much :(
You need:
4 ounces dark chocolate chopped
1 cup brown sugar
2 cups all-purpose flour
1 tablespoon grinded coffè
1 teaspoon baking powder
a sprinkle of salt
3 large eggs
1 teaspoon vanilla extract
1 cup toasted hazelnuts coarsely chopped
Preheat the oven to 350 degrees F.
In a food processor, blend together the chocolate and brown sugar until fine.
Mix together the flour, espresso powder, baking soda and salt.
In a separate bowl, blend the eggs and vanilla until the mixture is light and fluffy.
Add half the chocolate mixture and blend at low speed.
Add half the flour mixture and blend.
Repeat blending just until mixed.
Stir in the hazelnuts and mix throughout the dough.
With a roll-pin stretch the dough and cut biscuits of the shapes you prefer.
Bake the cookies for about 25 to 30 minutes or even less or more, it depends on the oven you have: they must results quite dry but of course not burned.
Cool the biscotti completely and then store in a biscuit box or a jar.