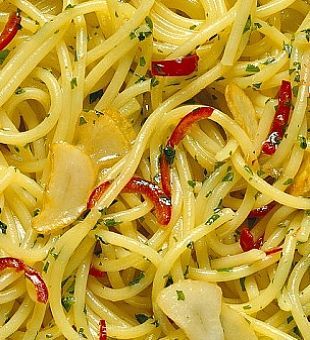 Today "the easier the better": this is a dish that everyone can do, even if he/she knows nothing about kitchen, it's really really cheap and made with ingredients you always have at home.
Not by chance it's a classic " emergency dish" and "student dish" with canned tuna tomato sauce pasta.
For 4 servings you need:
1 pound spaghetti
1/2 cup extra virgin olive oil
2 garlic cloves, finely minced
3 red hot chili peppers, crushed
1/4 cup fresh parsley, finely chopped (if you like it)
Cook pasta as usual, in boiling salted water.
Meanwhile heat in a large pan olive oil, add garlic and peppers, cook untill the garlic is soft, almost undone but not brown.
Remove from heat, when the pasta is "al dente" drain it keeping a little cooking water apart.
Pour spaghetti in the pan, mix well over medium heat, add a little cooking water if it seems dry, add parsley, mix again and serve.